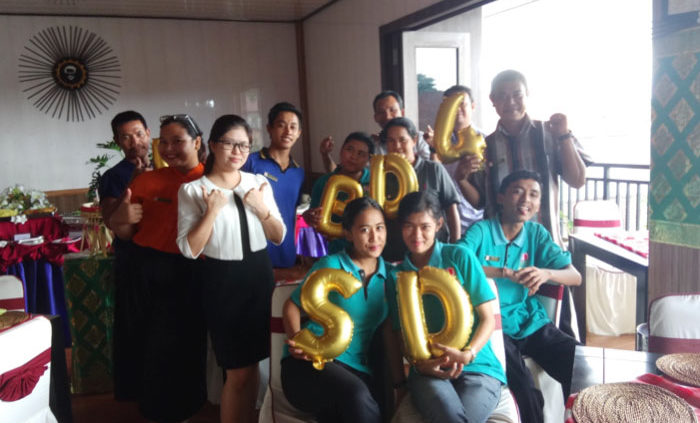 Shunda Hotel Bali is a business subsidiary from PT. Shunda Sucai Indonesia (Shunda Plafon, Shunda Plastic, Shunda PVC, Shunda Design, Shunda ATK), a National business group that deals in manufacturing and based in Jl. Jembatan 3 Komplek 35/O, Jakarta Utara with 26 branches spread all over Indonesia.
Shunda Hotel Bali start its operation on 25th November 2012, located in an area that has a great business potential and in fact keeps on growing in density that is Jl. Bedahulu VII No.3, Gatot Subroto, Denpasar, Bali, 80115.  Shunda Hotel Bali is surrounded by National and International Cuisines, 7 (seven) National and International Bank, close to Hospital, Tourist Attractions, Shopping Centre, Business Area, and Government Offices in Denpasar. Shunda Hotel Bali is also equipped with 57 rooms, consisting of 42 Standard Room and 15 Deluxe Room, one Ballroom with capacity to hold 100-280 Pax, 3 (three) Meeting Rooms with capacity to hold 20-100 Pax, one Restaurant, and spacious parking area. Shunda Hotel Bali's aforementioned facilities is supported with electrical capacity of 100 KVA, 200 KVA Electrical Generator, underground water source (drilled well), television set, and electric water heater for in-house guests' usage.
For 4 (Four) years Shunda Hotel Bali has been a part of Bali's Hotel and Tourism, supporting its programs and contributing to the growth of the industry. Nowadays Shunda Hotel Bali has grown into a City Hotel that keeps on improving its position by ongoing innovation such as giving the best promotions monthly, and also refreshing its image by doing renovation like repainting several areas within Shunda Hotel especially our Deluxe Rooms.
Shunda Hotel Bali had just celebrated its 4 years anniversary on 25th November 2016. This event was attended by all of its Managerial Staffs and Employees. This celebration's proceeding include several activities such as cutting a birthday cake, Breakfast Food Menu tasting session, group photo taking, and a launching event of Food and Beverage Department's Newest Branch, SD Café, located at our Main Lobby.
http://www.shundahotelbali.com/wp-content/uploads/2016/12/4-tahun-berkarya.jpg
500
700
simple
http://www.shundahotelbali.com/wp-content/uploads/2016/11/logo.png
simple
2016-11-25 02:24:55
2017-02-17 17:38:13
4 Years of Creation